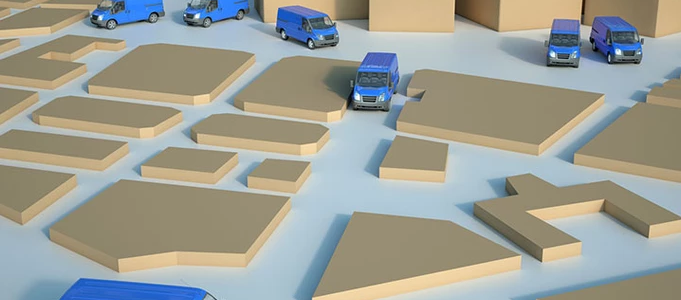 One of the most daunting tasks a fleet manager can take on is the implementation of new technology that will alter the way a fleet is currently managed. At Advantage Asset Tracking our fleet experts will help guide you into a smooth rollout. Here are the 11 steps for successfully completing a large, automated vehicle location implementation:
Know the project size and shape

Review the solution

Appoint project managers

Establish and maintain a communication rhythm

Develop a statement of work

Develop field best practices

Create a job aid

Plan the whole project and keep it updated

Review as you go

Never stop retrofitting

Leverage OEM technology
1. Know the size and shape of the project
It sounds like an oversimplification, but taking the time to document a complete vehicle list, home location for each vehicle, its availability and the existing installation is key to the rest of this list. Be sure to remove any vehicles from the list that will be decommissioned before the end of the upgrade window and plan for new additions that will be coming in during the same time.
2. Review your solution
Take a hard look at the data and insights you are receiving from your solution so that you can take advantage of additional functionality you may not have needed during the initial installation. For example, has driver behavior proven harder to coach than anticipated, triggering the need to add camera technology? Would you gain market share by adding temperature sensors to your refrigerated trucks? Now is the time to make those changes.
3. Appoint a project manager at every partner organization
This is an often overlooked step that can prevent problems from occurring in the future. The end customers and any other interested parties like third-party installers should each set a project manager for the retrofit. By having an individual that knows they are responsible for this project, it is likely that it will run more smoothly.
4. Establish and keep a communication rhythm
Weekly meetings with all project managers and other stakeholders provide the assurance that no more than a few business days will go by before everyone can discuss an issue. Even if there is very little to discuss, keep the schedule going. Some of these meetings will be five minutes long, and some will be an hour. It will all depend on the nature of what is going on that week but constant communication is very important.
5. Develop a statement of work, and keep it updated
One of the project managers should take the lead and develop a project plan or statement of work that outlines who does what, key deliverables and deadlines. By agreeing to these specific goals in advance, and making the inevitable changes together, the working group can avoid confusion and hold each other accountable.
6. Develop field best practices
Before undertaking dozens or hundreds of vehicles at a time, the team should develop a step-by-step description to remove the old device, install the new one and any new Geotab IOX Add-Ons, document the installation and update the portal. Existing documentation can serve as a starting point, but specifics will need to be discussed. Using an assembly line approach to removing the old device, installing the new one, confirming communication, securing the installation and finalizing the install can be sorted out as well.
7. Create a job aid
By documenting the best practices developed above, the project management team can turn any employee with basic mechanical skills into an installer. When a small number of vehicles cannot practically be brought into a central location or a third-party must be hired, a thorough job aid can provide training before the installation and accountability after. Setting good expectations for the final product is always a good idea.
8. Plan the whole project, and update it often
After establishing procedure and a job aid, but before fully diving into the installation or retrofit project, the project management team should update the statement of work to include estimated installation timelines for each site and vehicle type. This plan should be examined at least two weeks in advance of any planned activity to ensure any needed hardware can arrive on time and there are no last minute surprises.
9. Review as you go
Do not wait until the last installation to review deliverables. One member of the project management team should be responsible for confirming that no mistakes have been made in naming vehicles by comparing vehicle name, VIN and device serial number to confirm they are all showing up as expected.
10. Never stop retrofitting
Each time a device is reinstalled into a new vehicle, it should be evaluated to confirm that the cellular network technology is viable for the projected life of that vehicle. Additionally, evaluate whether it supports any potential Add-Ons or changes and is in good working order. The more devices you upgrade ahead of time, the more risk you can mitigate.
11. Leverage OEM technology
Geotab has valuable partnerships with vehicle manufacturers like Ford and General Motors. Take the time to work with your provider to understand the data that comes from these OEM telematics units so that you are ready to leverage the insights. If your project is delayed due to extreme weather, pandemic response or other factors, knowing which vehicles can leverage OEM telematics will empower you to use them and reallocate your installation resources to those that cannot. Fleet managers can use OEM technology on new deliveries of vehicles to quickly deploy them, and then replace with a more robust implementation as resources allow
By following these 11 steps for an automated vehicle location implementation, your fleet can prepare for a smooth process. To make it easier for your fleet, create a checklist of these steps and start your large scale AVL implementation today.
Let us help you
No matter the size of your fleet, our team of experts that can guide you through the process of telematics implementation and make sure your telematics needs are identified from the beginning. Contact us for a demo.