EXPANDABILITY THAT GROWS WITH YOUR BUSINESS
We help you navigate the complex world of fleet management and personal safety solutions. Guiding you, step-by-step, through the entire technology roadmap so that you can identify which vehicles can be replaced by EVs.
Guidance and support for the largest set of EV models
Experience is everything. At ADVANTAGE ONE, we have your entire fleet covered with the largest set of EV makes and models available, including medium and heavy-duty EVs and buses. Our knowledgeable team will guide you through the entire selection process to ensure you make the right choice for your business!
Unlike conventional vehicles, EVs do not follow mandatory telematics data standards, making data access a challenge. As a Geotab provider, we can access critical EV data, ensuring your EVs have strong data support today and into the future as you grow your EV fleet. By using the world's largest EV dataset, Geotab will help you operate your EVs confidently with no data gaps in your reporting and all your performance questions answered.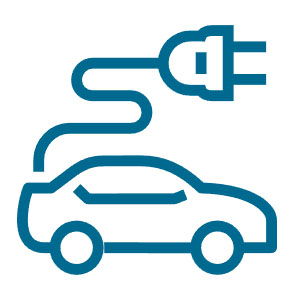 Geotab Overview
Geotab Proprietary Hardware
GO9 Telematics Device

Plug & Play

Made in Canada

Purchased FleetCarma in 2018

Geotab I0X Hardware Expandability
This includes:
Driver ID & PTO Monitoring

Bluetooth Tracking & Text-to-speech

Satellite Remote Monitoring

Largest Engine Data Library on the market

Overview OEM Telematics Integrations

Ford/GM/Mitsubishi

Geotab Security Efforts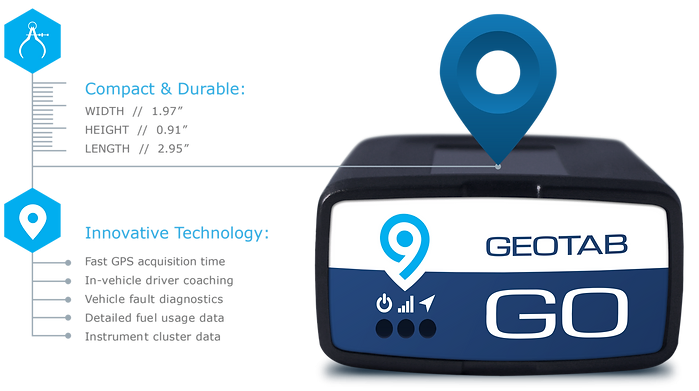 Enabling EV Adoption

PERFORMANCE REQUIREMENTS

VEHICLE SELECTION

TOTAL COST OF OWNERSHIP

ENVIRONMENTAL IMPACT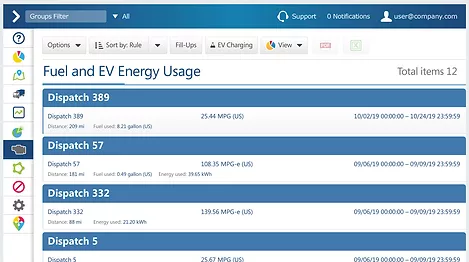 Fuel and EV energy usage support
Review both fuel and EV energy usage. This helps answer questions such as the typical electric range and the performance of fleet EVs compared to fuel vehicles.
This report provides insight into battery use — specifically, if it is being maximized and identifying if any of the PHEVs are running solely on gas.
EV charging report
A complete charging history of your EVs/PHEVs shows you when and where the vehicles are charging, the length of time the vehicles were charging at a specific location, and how much of a charge they received. Use this report to get deeper insights into why EVs are at their current percent charge.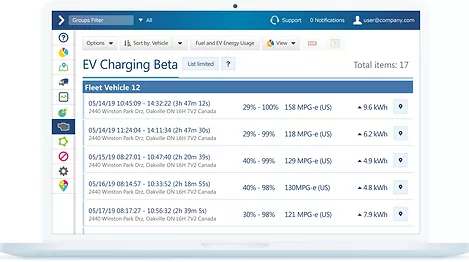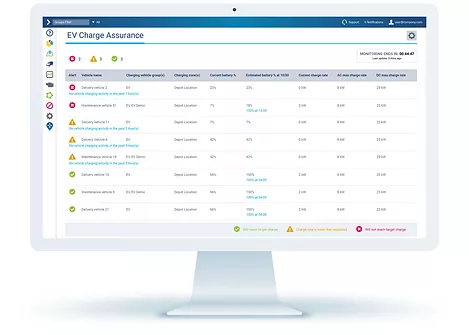 EV Charge Assurance
EV Charge Assurance provides a comprehensive view into the charging status of all your fleet's electric vehicles. Quickly see at a glance which EVs are ready and charged while also setting up custom notifications to proactively resolve charging issues.
Map functionality
Includes real-time data on battery charge percentage and charging status. Real-time battery charge percentage helps you identify which EVs/PHEVs in your fleet have the most (or least) battery charge so you can dispatch the nearest vehicle with enough battery charge to get the job done. Real-time charging status provides a view of which vehicles are actively being charged at any given time.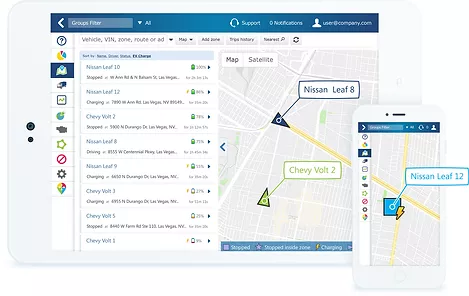 Custom notifications with EV data
Receive notifications when the battery of a vehicle reaches critical level while on the road and needs to be charged

Prioritize charge order based on vehicles in the lot with the lowest charge level

Establish 'no-charge time' rules to eliminate charging during peak electricity rate times

If a vehicle is charged during the time, a notification can be sent to the fleet manager