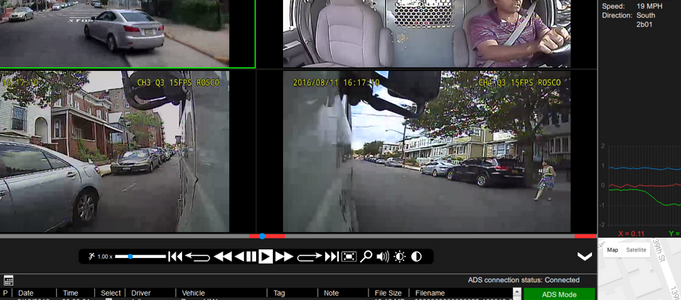 Video telematics — telematics augmented by video data — is one of the fastest growing segments in the aftermarket telematics space due to the expanding needs of today's fleet operations. More specifically, dash cams are becoming more prevalent and, in some circumstances, indispensable to commercial vehicles of all kinds and sizes. Given a dash cam's real-time visibility and ability to offer valuable insights into overall performance, it can really help fleets increase their safety and bottom line. As camara options continue to grow, it is essential to keep certain criteria in mind when selecting the right solution for your fleet's needs.
Here are some key points to consider when selecting a video telematics solution:
Reliability — it goes without saying that your camera solution needs to work when you need it to. There are numerous low cost options in the market today that can eventually become a liability for fleets if these cease to function within a year or two. The last thing fleet managers need is to deal with a faulty dash camera after they've come to rely on it more and more in their operations.

Vendor Reputation & Longevity — there are numerous telematics startups with video solutions that have gone out of business or lost market share because they provide a low quality product. When looking for a video telematics solution, look for providers with longevity in the market and solid customer reviews. Companies that have not yet proven themselves, even with amazing marketing, could end up being a gamble for its customers.

Data Privacy & Ownership — this is a big criteria to look out for as not many customers are aware that some video telematics providers reserve the right to sell their data at any given time. Fleet operators need to make sure they are working with a provider that would never sell their camera data under any circumstance. They can ensure their data is secure and not sold or used elsewhere by looking into the provider's privacy policy.

Expandability —it is crucial for today's fleets to work with a video telematics system that can expand with their changing needs over time. While you may not necessarily need an AI solution right now for your fleet, your business needs may change with time and require a camera solution that has expandable functionality. For that reason, you will want to look for an enterprise platform that offers a technology roadmap that is robust with expansive integration options.
Lastly, selecting a video telematics solution does not need to be an undertaking you do on your own. When speaking to different vendors that meet the above criteria, you will want to work with someone who is serving as a true consultant and not just a sales representative. A truly effective consultant will think of your relationship as a partnership and pay close attention to your current needs as well as keep an eye on what may lay ahead for you down the road.