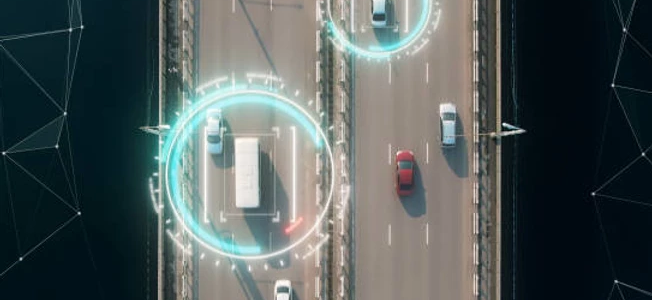 In the automotive and fleet industry, telematics is typically synonymous with vehicle telematics fleet telematics or connected vehicles. Vehicle telematics is used to describe vehicle onboard communication services and applications that communicate with one another via GPS receivers and other telematics devices. In our experience, the most common application of this is vehicle asset tracking. This is achieved by combining a GPS system with onboard diagnostics, typically to map the exact location of a vehicle and the speed at which it is moving. Vehicle telematics continues to rise in popularity as a direct result of business demand and regulatory requirements. Fleets are relying on telematics data not only to remain compliant with the ELD mandate but to also run their operations more efficiently.
How telematics devices work?
The telematics device retrieves data generated by the vehicle, like GPS position, speed, engine light information and faults. G-force measured by a built-in accelerometer in the device. Then the telematics device sends the data up to the cloud.
A vast amount of data can be processed and analyzed with a telematics device and other connected hardware or sensors, such as:
Position

Vehicle speed

Trip distance/time

Idling time

Harsh braking and driving

Seat belt use

Fuel consumption

Vehicle faults

Battery voltage, and other engine data.
Finally, the data is decoded and brought into the fleet management software app for reporting and analysis. With the software, users can view and export reports and gain business intelligence such as the top 10 drivers with the highest number of speeding incidents or vehicles that are due for scheduled maintenance.
Data analytics and machine learning offer a way to get further use from telematics data. For example, fleets can use benchmarking to see how their fleet performs on safety as compared to other similar fleets or understand if routes are structured in the best way.

The benefits of vehicle telematics
Telematics assists in six core areas of fleet management: productivity, safety, fleet optimization, compliance, integration and sustainability.
Productivity — Improving customer service by using real-time GPS tracking, trip reporting, and dispatching and routing tools.

Safety — Increasing safety with in-vehicle driver coaching, risk and driver behavior reporting, collision notifications and reconstruction, and the ability to locate a stolen vehicle.

Fleet Optimization — Streamlining vehicle maintenance with predictive maintenance abilities and remote diagnostics, and fuel management by tracking idling and other fuel-guzzling habits.

Compliance — Electronic logging and Hours of Service, IFTA reporting, and vehicle inspections.

Integration — Combining other software systems with telematics such as onboard camera technology or CRM software, and even building new applications.

Sustainability — Reducing the fleet's environmental impact and carbon emissions, plus managing electric vehicles.
In insurance telematics, vehicle owners share safety data with their insurance company to help lower the cost of premiums, if they can prove safe driving habits. Essentially, telematics can help insurance companies better pinpoint levels of risk. (While not all insurance agencies are offering this telematics-based insurance, it's worth discussing with your provider if you're not self-insured.)
Another area gaining in popularity is the ability to increase vehicle security by integrating identification sensors into vehicles. This allows fleets to authenticate a driver's identity before they can start the vehicle.
Many types of companies use telematics, from small businesses to large corporations, not-for-profit organizations and government agencies. Allied Market Research values the global automotive telematics market at $50.4 billion in 2018 and estimates it will reach $320 billion by 2026.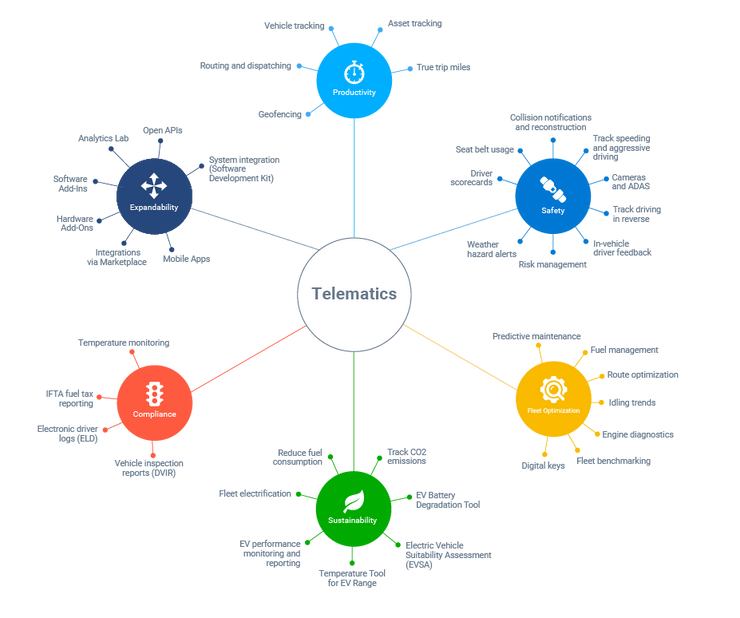 Industries using telematics and fleet tracking (sample list):
Courier and delivery companies

Field sales and other services such as HVAC, plumbing, etc.

Towing companies

Trucking and transportation logistics

Construction businesses

Food and beverage companies

Transit fleets, such as motor coach, public transit, taxi and paratransit

Oil, gas, and mining industries

Utilities

Police, first responders, and other public agencies

Landscaping

Waste management fleets

Car rental and leasing companies
The future of telematics technology
The rise of telematics in the automotive industry has been a huge turning point for fleet efficiency and safety. As it continues to gain momentum, there are a few emerging trends to keep an eye on in the near future. Data sits at the heart of telematics, but understanding that data and acting on it can be challenging. Expect to see telematics providers, like GEOTAB, present customers with intelligent tools to help weed through raw data. GPS tracking systems will continue to become better integrated with other operational systems and will continue to improve while M2M technology expands. The emergence of the Internet of Things (IoT), smart home and smart city technologies are great examples of the rapid evolution happening in this space.
Looking for a vehicle telematics solution?
Advantage Asset Tracking is a Geotab Authorized Reseller that helps with safety, compliance, efficiency and so much more. With GPS tracking for vehicles and assets, ELD compliance, and more, we have a complete telematics system that helps create a unified fleet management system. If you're looking for fleet management software, reach out to us for a demo or free trial today.