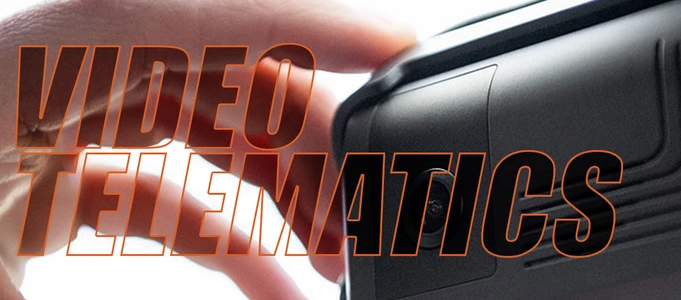 We're seeing an evolution from normal dash cameras to video telematics now that vehicle cameras are becoming more important to have in fleets. There are two key advantages with video telematics over a typical dash camera. The first is that managers can use video telematics to identify and modify risky driving behavior. The second benefit is that managers can receive timely video evidence of critical incidents — called "first notification of loss (FNOL)" by insurers.
What Exactly are Video Telematics and Their Cameras?
Video telematics is a technology that integrates cameras and analytics with fleet tracking. Companies can use video telematics as a tool to record collision evidence, for driver risk management, or security.
A telematics camera refers to the hardware part of the solution. To get the most value, look for a compact, high-resolution camera with generous storage capacity, multiple recording modes, and GPS/GLONASS. Other useful video telematics camera features include an internal microphone, Wi-Fi connectivity, and 4G/LTE data transmission.
How Video Telematics Works
Fleet video telematics combines vehicle data and driving data to provide more context around any incident footage while transmitting the video evidence in real-time over a cellular network.
Multiple camera options are available, including:
Road-facing only

Road and driver-facing

Multi-camera (4 total cameras inside and/or outside the vehicle).
MyGeotab users can easily view their video telematics data right from their software application. Having all their fleet data in one place makes it easier to analyze and act on the information.
Benefits of Video Telematics
In the case of a collision, video telematics can help provide the answers to who, what, where, when, and why. Telematics technology plays an important role in improving the safety of drivers and others on the road.
Here are more benefits of telematics with video:
Immediate notification of incidents — manage the direction of claims through early interception

Remote access to video footage — instant access when needed by the claims department

Vehicle tracking and monitoring — the speed and behavior metrics and whether the vehicle was in the area of the incident at the time
Is Video Telematics Right for Your Fleet?
We pride ourselves in uncomplicating any telematic integration so contact us a call today to learn more about video telematics and whether it is the right tool for you. With so many options out there, we bring simplicity to your search for the perfect fleet tracking solution.