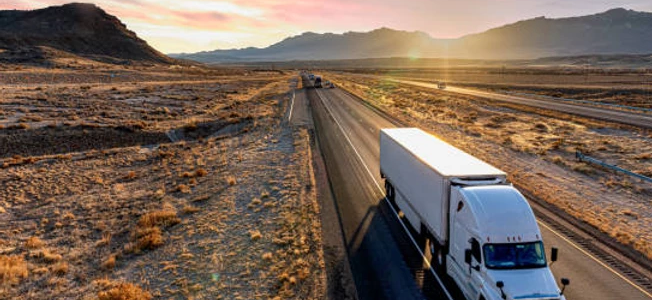 Making sure you have the right tires for your fleet can positively affect both vehicle and driver safety as well as fuel costs. To help you better understand what tires work best for your fleet, we've outlined some key features of tire health to consider that will keep your investments lasting longer and help you choose the right tires for your fleet.
Understanding tire types
There are types of tires that are more suitable for certain business needs. To get an idea about which tires are right for your fleet, the below list has been organized in a range from tires designed for top highway performance to off-road suitability. With that in mind though, be sure to consider the climate your fleet will be facing as well as the terrains they may have to drive through when making your choice.
Ribbed
For the best in highway handling and long lasting mileage, look into ribbed tires. They feature a solid rib tread design to improve vehicle stability, even when hauling a heavy load or driving under wet conditions.
Sport truck
Performance truck tires are very similar to highway tires, but feature higher speed ratings than highway tires. Some performance truck tires will have grooves for enhanced traction, as well as asymmetrical or all-season tread patterns that optimize these tires for a variety of weather conditions.
Highway
If you need an all-season tread pattern and haul heavy loads — highway tires may be for you. These are the standard for highway driving and have been engineered to ride well on the pavement. They are made of durable compounds that prevent uneven wear.
All purpose
All-purpose tires (also known as trail tires) are slightly more rugged than a highway tire. These tires generally have fewer grooves than a highway truck tire, with overlapping blocks to provide moderate off-road grip in loose road conditions.
All terrain
If your fleet travels through off-road driving conditions, all-terrain tires are suited for just that. They have a more aggressive tread pattern than other tires which provide the right traction for driving on gravel, sand and light mud. They are great if you need highway stability and comfort, with the ability to get to off-road locations.
Mud terrain
If your fleet doesn't often drive on roads, mud-terrain tires have an extremely aggressive tread pattern with very large tread blocks that help you get traction even on deep mud and sand. You will find these tires often have reinforced sidewalls to resist punctures, abrasions and tears that can occur when driving off-road.
Tread
When you touch the tire, you should be able to tell if the surface feels hard or soft. Hard tires provide better fuel efficiency and are designed to go the distance. However, in certain conditions (such as rain) you may experience a decrease in traction. Soft tires are designed to provide a smooth ride and grip the road better, but in turn they also tend to wear down faster and may have you stopping to fill up the tank a little more often.
Pressure
Make sure you are checking for signs of underinflation and pressure checking your tires often. This is the best way you can to reduce blowouts and most importantly, prevent fuel waste. For more tips on this topic, check out our blog post: How to best manage your biggest fleet cost.
Load capacity
Know your load: that is, what you carry and what your tires are designed for. Check the maximum load limits for each wheel as prescribed by the manufacturer. This will keep your new set of tires around for the long haul and even help your investments pay off.
Conclusion
When it comes to choosing the right tires for your fleet vehicles, be sure to weigh your options carefully and protect your investments. When you do this, you will see a difference in your fleet safety and fuel efficiency.
For more tips, tricks, and things to watch out for, reach out to our team at Advantage Asset Tracking.