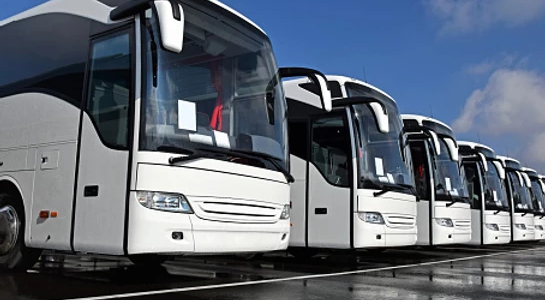 Set up your fleet for success with these best-in-class safety management practices.
Collisions are costly to businesses; there's no way around it. By adopting a proactive versus reactive approach, fleet managers can coach their drivers to better safety results.
What quantifies a best-in-class fleet safety program?
A best-in-class fleet safety program starts with a core team of people who are committed to safety, combined with regular training and a written policy that is consistently communicated and enforced. Benchmarking can also be used to improve performance. Below are our recommendations.
1. Set up a fleet safety council
Creating a fleet safety council or dedicated team is a best practice for any business or organization. The safety council can meet on a regular basis, at least monthly, to analyze all collisions — both preventable and unpreventable — as well as all exceptions outlined in the fleet safety policy. The main goal of a safety council is to keep track of all infractions and to consider any appeals filed by drivers who believe they have been unfairly penalized. This group would also make sure that the policy is communicated properly and frequently, and that it is followed consistently and fairly at all levels of the business.
2. Monitor policy compliance with fleet rules
One of the worst things that could happen to a company with a policy that is not consistently and fairly enforced or maintained, is that it would impact them significantly in a court of law. A lack of a policy in general is also not ideal. Both of these scenarios could be financially damaging to a company and their brand and reputation.
A good process is to manage by exception. This means that fleet managers should be spending most of their time focusing on issues that have the greatest influence on the company's bottom line — like dangerous driving habits. Using a pre-built driver safety scorecard, like the one available from the Geotab Marketplace, makes it easier to set up rules to measure each part of the safety policy and then send reports to the appropriate managers or teams.
3. Hold your team accountable
It is vital to have defined responsibilities of accountability for report action items and timelines for those actions to better change and manage driver behavior as well as safeguard your company. From a solution standpoint, there are a variety of options for accountability depending on the job, as well as the company's culture and safety focus. Companies of all types should have a solution in place, whether internal or external, that documents all actions and events related to safety policy management, as well as someone who assigns and tracks driver training for exception behavior.
4. Fleet safety benchmarking
A good technique for analyzing and optimizing operations based on a fleet's driving habits is fleet benchmarking. This method allows you to assess your current fleet performance and track your progress toward your objectives by comparing your data to that of other fleets.
Through the use of telematics, fleet managers can collect a significant amount of data from a number of sources, create unique fleet goals and make appropriate adjustments to their fleet operations based on industry standards. Benchmarking knowledge provides a firm platform for decision-making. When you compare your performance to others in your field, you can see where you're falling short and where you might improve.
5. Incorporate the power of AI
Geotab's new Safety Benchmarks experiment, available in the Analytics Lab, provides fleet managers with actionable insights by analyzing their fleet's safety performance, and comparing it to peer groups.
Unlike typical benchmarking calculations that depend on surveys, this one leverages artificial intelligence (AI). Geotab's benchmarking analysis takes an AI-driven approach to dynamically create peer groups, helping fleet managers make data-driven decisions.
Hopefully this information gives you some solid idea on how to add create or add to your existing fleet safety program. If you want more insight or help navigating your fleet's safety performance, be sure to contact our expert team today: info@advtracking.net