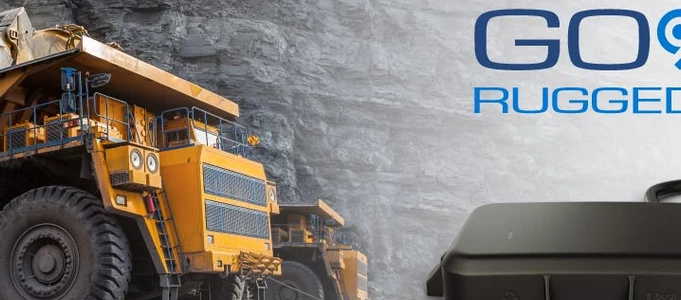 We listed five great reasons why you will love this latest GO RUGGED model.
1.Rated IP68 and IP69K for reliability in all types of environments
Without question harsh weather takes a toll on fleet equipment and vehicles. But GO9 RUGGED is ready to take on any weather condition, any day. Feel confident knowing that this telematics device is designed for all elements.
The newly redesigned GO9 RUGGED allows for more robust and flexible installations. GO9 RUGGED is IP68 and IP69K rated. IP68 means that the product is dust-tight and protected against the effects of continuous immersion in water. IP69K means that the product is protected against high pressure water cleaning with water temperatures of up to 80 degrees Celsius.
A product's IP Code rating tells you how resistant an enclosure is to the intrusion of dust and liquids. Developed by the International Electrotechnical Commission (IEC), the IP code is made up of two numbers, the first relating to solids and the second to water.
2. Real-time GPS tracking
The GO9 RUGGED has advanced GPS tracking technology like the Geotab GO. Know where your offroad equipment is at all times. Check MyGeotab to see the location and trip history. If your connected fleet asset is stolen, GO9 RUGGED can help you recover it.
Getting connected means you also have access to other telematics benefits like tracking idling and fuel use, plus access to engine data and diagnostic trouble codes for maintenance planning, and much more.
3. LTE connectivity
GO9 RUGGED supports communication on the 4G LTE network. Why does this matter? LTE connectivity provides faster speed and greater efficiency for cloud-based management processes. For fleet managers, this means real-time access to your driving and vehicle data and reports, when you need it. This feature is available in select markets.
4. Collision detection and notifications
Do you know if your equipment has been in a crash? With GO9 RUGGED your safety program will be supported with collision detection and notifications and you can set up a rule to trigger when there is a possible collision.
The Collision Reconstruction Add-In for MyGeotab lets you view, analyze and interpret collision data, and it's free. Know where a collision took place and see the point of impact, as well as RPM and accelerometer graphs.
5. Over-the-air firmware updates
Manual firmware updates are a thing of the past. We deliver firmware updates for the GO9 RUGGED over-the-air. Geotab adds new features and carries out maintenance automatically and securely so you can focus on more important tasks.
See all the features and specs in the GO9 RUGGED Support Document.