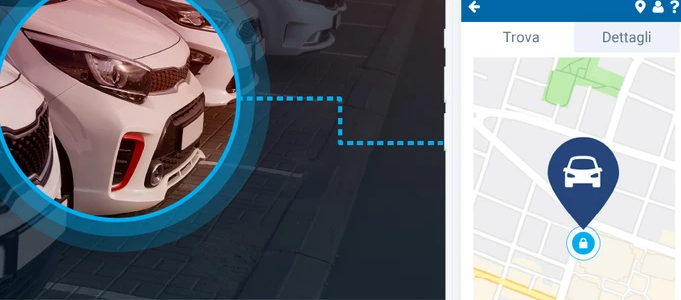 Earlier this year, we wrote a blog post on how governments can get more out of their fleets by implementing Geotab's Keyless solution. Since then we received many questions from customers asking if Geotab Keyless is suitable for other types of fleets, whether for public car sharing, corporate motorpooling, key management automation, or new mobility business models. It's become obvious that our customers need more advanced ways to control and manage keys.
Before we get into how Geotab Keyless can be of benefit to your fleet business, let's first cover the basics:
What is Geotab Keyless?
Simply stated, Geotab Keyless is an ultra-flexible, scalable solution for digitized car keys.The Keyless technology allows users to embed the key of a vehicle into a cellular and Bluetooth connected piece of hardware that's quickly and easily installed into the vehicle with no wire cutting. A driver can then unlock, lock, and enable the starter of the vehicle using an app on their mobile phone or NFC reader for their specified booking time, in or out of cellular coverage.
Keyless Hardware Add-On Connects Easily to the Geotab GO9
The Geotab digital key is based on our IOX architecture. It is a low cost Add-On hardware that plugs into the GO device to provide access and immobilization functions to the vehicle. We call it IOX-KEYLESS.
The IOX-KEYLESS is flexible enough to accommodate a number of different customer requirements, including:
immobilization relays that can be used to more deeply secure the vehicle

Bluetooth connectivity for access to the vehicle while out of cellular connectivity
The IOX-KEYLESS provides authorized fleet personnel the ability to manage the lock state of the vehicle through the GO device, as well as control the mobilization state of the vehicle over cellular or Bluetooth link, and/or using a IOX-NFCREADERA reader mounted on the windshield.
How Geotab Keyless Works
The system works on practically every modern vehicle and installation is simple. The IOX plugs into the GO device, and the GO device into the OBDII port. Geotab maintains the security of the digital keys throughout its lifecycle. Coupling the lock control functionality provided by IOX-KEYLESS with Geotab's massive proprietary vehicle diagnostics database creates a secured and reliable shared-mobility solution for commercial fleets.
Changes in mobility have led to a need for new business tools. Digitization of the keyfobs itself is one of these tools. Another is a method for remotely assigning their drivers to their vehicles. In the case of public car sharing, this means one user can book a specific vehicle with some (if minimal) advance notice. For government and corporate motorpooling, this might mean allowing the user to reserve vehicles in the same way they might reserve a meeting room.
For simple key management, a set of drivers could share access to a particular vehicle simultaneously for many months. Geotab decided the best way to serve our customers was to partner with best-in-class software companies to provide market-focused solutions for each of these areas.
Is Geotable Keyless Suitable for Your Business?
The Keyless technology can be integrated into an existing vehicle reservation software with the Geotab API. Geotab is also integrated with industry leading vehicle reservation software partners that users could use.
Typically, only large organizations focused on car sharing would have their own vehicle reservation software where they would use the API to integrate into their software. The good news is that now smaller organizations, or organizations not focused on car sharing, could use one of Advantage's vehicle reservation software partners who are already familiar with the Geotab API.
The standard usage model would be to use the Keyless and a reservation partner software, along with the main Geotab database, to track and manage a fleet. However, if a user is only interested in the Keyless/vehicle reservation software, Advantage can also offer an API-only plan wherein the user could utilize the Geotab Keyless hardware and Geotab API to integrate with the vehicle reservation partner without the main Geotab fleet management platform.
Ready to try a best-in-class digital car key that provides secured keyless access?
Geotab is currently offering customers free Geotab ProPlus + Keyless service for the first six (6) months with every purchase of a Geotab GO device and IOX-Keyless combo. Promotion ends July 31, 2021. Terms and conditions apply. Learn more here.