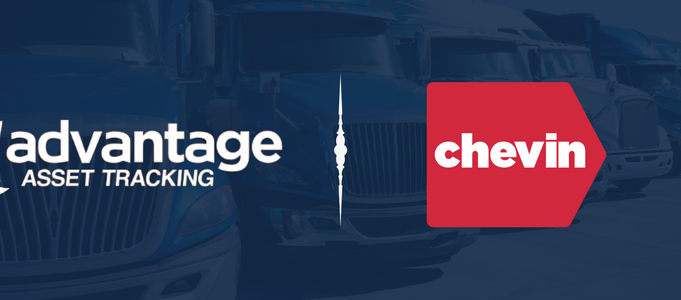 Chevin strengthens its presence – and enhances its reach – in North America with reputable Geotab reseller, Advantage.
Fitchburg, MA – May 20th, 2021: Chevin Fleet Solutions, the leading global provider of smart fleet management software solutions, further cements its position in North America thanks to a new reseller partnership.
The innovative technology expert will work with New Jersey-based reseller, Advantage Asset Tracking, to promote and support the commercial side of its partnership with telematics giant, Geotab.
The mutually beneficial partnership will see a close working relationship between the two companies, sharing not only commercial opportunities for Geotab integrations and fleet management software alike, but industry intelligence, too.
The integration itself has been designed to help mutual clients increase productivity, decrease costs, and improve compliance across all areas of their fleet operation.
Chevin will continue to work directly with Geotab – and its clients – for all technical requirements relating to the integration with its signature fleet management solution, FleetWave.
Speaking on the new partnership, Will Wycks, Senior Vice President of Product & Marketing at Chevin, said:
"Chevin continues to strengthen operations in North America after realizing substantial global business growth last year, and our joint venture with Advantage is expected to boost this even further.
"The new partnership will add significant value for both new and existing clients, primarily by granting access to a goldmine of information about driver behavior and vehicle performance.
"With this level of intelligence at your fingertips, the possibilities really are endless. And we look forward to further developing our professional relationship in the coming months."
Andrew Kopecki, CEO at Advantage Asset Tracking, said:
"Through the combined power of Chevin and Geotab in the form of a bilateral integration, Advantage Asset Tracking will bring to customers the performance of a fleet management information system that they've been asking for.
"With 10+ years of successful Geotab telematics implementation and Chevin's preferred vendor status, we bring a best-in-class, hands-on level of support that the market has been craving, along with an additional layer of resources for its fleet management efforts."
About Chevin Fleet Solutions
Chevin is the leading global provider of dedicated fleet management software, managing more than 2 million assets across 180 countries.

Chevin has pioneered innovation for fleets since 1990. It developed the first web-based fleet system and continues to offer cutting-edge fleet technology.

Chevin can tackle even the most complex operations with support for multi-location, multi-currency, multi-level user access, definable workflows and more.

Chevin can help you go green by removing paper processes, help you run a more efficient fleet to cut fuel emissions and make data-driven decisions about how best to embrace an alternatively fuelled fleet.

Chevin has the latest ISO accreditations for Information Security Management (ISO27001) & Quality Management Systems (ISO9001) standards.

When you join Chevin's global community of fleet professionals, you get to share in the knowledge and expertise of some of the world's largest and most complex fleets.

Chevin is recognized around the world for fleet expertise and has won multiple prestigious awards.
About Advantage Asset Tracking
Advantage Asset Tracking Inc. is an authorized Geotab reseller and asset management consultation group with a robust history of providing telematics and fleet management services and support for public entities. For the past 13 years, Advantage Asset Tracking has supported over 50 cities, municipalities, universities, public utilities, public port entities and law enforcement agencies across North America with the Geotab system. Advantage Asset Tracking is recognized by Geotab as a top tiered Value-Added Reseller (VAR) and is one a small handful of Geotab resellers that are a part of the California, Missouri, and Connecticut Sole-Source Contract programs providing the company with unrivaled experience deploying and supporting large government telematics contracts.
Media Contact:
Sarah Wilkinson – Global Communications Manager
Email: sarah.wilkinson@chevinfleet.com