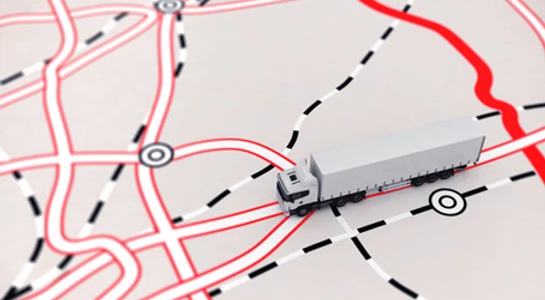 Every day, weigh stations audit vehicles from thousands of carriers to make highways safer for all drivers. However, inspections can be costly for fleets. Drivers have to pull in and wait in long lines to be inspected, often on multiple occasions along a single route. It wastes valuable time and money for vehicles with no safety violations and overwhelms law enforcement at each station. As a result, fleets are looking to implement innovative bypass technologies to address these challenges and improve the driver experience.
One such system fleets are turning to are transponder-less bypass services that are software based which are known to significantly reduce carriers driving hours and save operating dollars. In one case, Mesilla Valley Transportation reported that Drivewyze PreClear®, an example of a software-based system, saved the company 1,579 hours and over $164,000 in operating costs in just one month.
There are a number of bypass services on the market. So how do carriers select the right one that will benefit their operations? These are the four primary criteria fleet managers should consider before making a choice:
1. Network Coverage on Routes, Nationwide & Beyond
A bypass program that operates on the broadest possible network increases the opportunity for a bypass, especially for carriers that serve multiple jurisdictions. Fleet operators should ensure the bypass service is available at both fixed and mobile inspection sites, with the functionality to work at scales that are Weigh in Motion (WIM) enabled and scales that are not.
Drivewyze currently has the largest bypass network in the industry. The Drivewyze PreClear® technology is available at over 840 vehicle inspection sites in 45 states and 2 Canadian provinces, and is the exclusive technology provider for bypass services at 14 locations in North America, including New York, Connecticut, Alberta, and Ontario.
2. Ease of Use, For Efficiency & Safety
The best bypass technologies are the ones that are easy to use and implement while driving. Choose a service that offers hands-free functionality, which will allow drivers to process notifications without taking their eyes off the road.
Some bypass services provide advance notifications of fixed weigh stations and mobile inspection sites. These alerts, like Drivewyze PreClear® Heads Up Alerts, will help diminish accidental scale avoidance, which can impact a carrier's safety scores. Other features include safety notifications to warn drivers of high-risk areas, especially if they are driving on unfamiliar roads. Not only will these notifications decrease the risk of crashes, but fleets can also gain insight into how drivers behave before and after they receive one. These factors can help improve a carrier's Inspection Selection System (ISS) score, resulting in more weigh station bypasses.
Many fleets prefer a software-based bypass service that can be seamlessly integrated onto the driver's mobile devices or the in-cab telematics device (ELD). This helps maximize your ELD investment while eliminating the often-hidden costs of transponder management.
3. Features That Keep Drivers Top of Mind
Driver retention is an ongoing issue in the trucking industry, which sees an annual turnover of 90%, with 64.9% of drivers staying with a company for an average of just 90 days. By choosing a software-based bypass service, and leveraging GPS and geo-fencing technologies, carriers can respond to drivers' main frustrations: delays and on-the-road stresses.
Software-based bypass technology, like Drivewyze PreClear®, eliminates the need for a transponder. This means drivers can stay on the mainline, avoiding delays along their route. The hands-free notifications provide important updates that can prepare the driver for weigh stations, traffic, or unsafe areas, alleviating the stress of reacting to these frustrations in real-time.
These systems work with WIM scales to screen the truck as it passes, so the driver can avoid entering the scale house unless it's required. Plus, without the need to drive under a roadside transponder reader, vehicles can stay on the mainline for longer without slowing down or switching lanes.
4. Opportunities for a Connected Truck
Open platforms are the future of trucking. Hardware is expensive to install, difficult to maintain, and even more costly to upgrade. By selecting a bypass service that allows for cross-platform integration, fleets can implement multiple software solutions on devices that are already in the truck.
The benefit of this bypass technology is that carriers only invest in the base software once and can install additional apps with no extra hardware needed. Fleets can further integrate software for operational insights, driver efficiency, and enhanced safety. For example, Drivewyze's Safety+ service is an application that proactively prevents accidents and citations through in-cab and back-office driver coaching. It runs on the fleet's existing ELD system with no additional hardware installation required.
Compare Leading Services to Discover the Difference
There are many factors to consider when selecting a bypass service. Focus on features that will improve fleet efficiency, safety, and driver satisfaction. The most advanced bypass technology offers extended inspection site coverage, ease of use, mobile integration, and open software for future connectivity.
It's helpful to compare the leading technologies on the market in relation to a fleet's specific needs. Use this comparison breakdown to discover the key benefits and differences between software-based services, such as Drivewyze PreClear®, and a traditional, transponder-dependent system. Staying educated on the industry's best technology is the first step to dramatically improving operations for all stakeholders—from the fleet manager to the end customer.
Discover how a bypass system can make a difference to your fleet operations. Contact us to start a free trial of North America's largest weigh station bypass service, Drivewyze PreClear®.