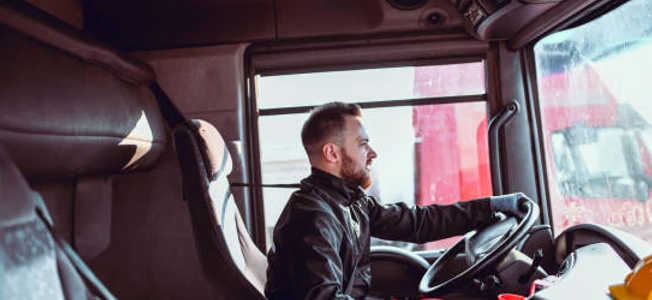 There are many exciting fleet camera or video solution options out there, from live streaming and on-demand video, to infrared and ADAS. The best-fit camera for your fleet doesn't need to have all the features — just the ones that meet your specific needs. To help you determine which ones are best for your fleet, we've decoded some of the more important features. Do keep in mind that to get maximum value from the camera or video solution, the technology requires connectivity, storage and management.
360-Degree View
A camera solution with a 360-degree view will have multiple camera options to cover all sides of the vehicle (road-facing, rear-facing, side-mounted), as well as inside the truck cab (cabin-facing or driver-facing).
AI Camera
Artificial intelligence (AI) is used in some video solutions to automatically analyze video content for unsafe driving behavior. In cameras where the AI is embedded in the camera or recorder device, it can be used to audibly coach the driver in real-time for instances of tailgating, roll-through stops, drowsiness, distraction and other unsafe conditions.
Continuous Video Capture
Continuous video capture means that the fleet dashcam is on and recording as long as the vehicle is in operation. A benefit of continuous recording is that the camera is on to record events whenever they occur.
Infrared
If you manage drivers who work at night, you might need a camera that works in the daylight and also when it's dark. Cameras with infrared (IR) sensors, also called night vision, can record in the dark, providing video or images in black and white.
Live-Streaming
Live streaming allows the fleet manager to see what the cameras are viewing as it happens, in real-time, from any particular vehicle they choose. Live monitoring can be useful, for example in monitoring an emergency to gain situational awareness.
On-Demand Retrieval
On-demand is ideal for when you want video only related to a specific time, place or event. Video on-demand empowers carriers to wirelessly retrieve video footage in real-time to help mitigate risk.
Integrated with Telematics
Integrating cameras or video with telematics is a time-saver. You can avoid the hassle of jumping in and out of multiple software apps and instead have one central place for your data, tools and insights. All camera and ADAS solutions on the Geotab Marketplace integrate with MyGeotab, meaning you can view and manage video in your existing fleet dashboard.
What features should a fleet camera have?
From our experience, there is no one answer to this question. Let your main use case, such as driver risk management, notification of collision, or security guide your ultimate choice. Let us help you get the whole picture on your drivers and vehicles with video telematics by finding the right solution for you.