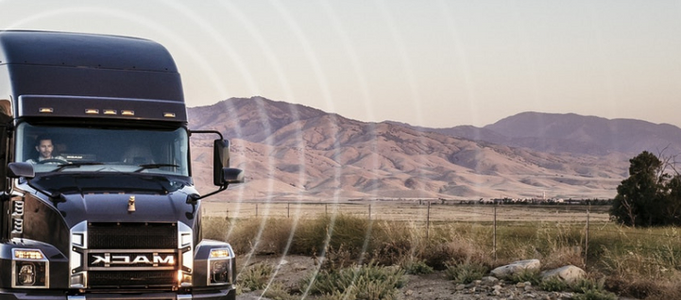 This year has brought about undeniable challenges on a global scale that have affected businesses large and small. The one area where we're glad milestones were set is fleet technology. More than any other year, 2020 brought a slew of cutting-edge (yet simple-to-use) fleet solutions, from mobile forms to camera systems.
Without fleet technology, business owners today would struggle to answer important questions about their vehicles such as:
Is harsh driving causing vehicle wear?

Are drivers taking the quickest routes?

What caused that collision?

Are my trailers lost or stolen?
Here are the top fleet technology trends we saw in 2020:
1. Mobile forms
Piles of crumpled, illegible paper forms will soon be a thing of the past. Thanks to user-friendly technology, workers are now able to update customizable mobile forms in the field. Helpful features like automatic completion, geo-stamping and customization now feature in many paperless solutions. Best of all, managers can use data captured on mobile forms for long-term reference and analysis.
Check out these Geotab solutions: Actsoft's Encore and ProntoForms' Mobile Forms
2. Routing and dispatch tools
Connected fleets are becoming increasingly nimble. Many popular solutions enable managers to assign (or cancel) jobs from home office, with immediate effect, as well as optimize routing.
One dispatch management solution is Applied Data Consultants' Elite EXTRA. A MyGeotab Add-on, Elite EXTRA works directly with the GO device, including all functions on a single sign-in dashboard. Other tools assist route planning, like Route Planner from Route4Me.
3. Camera systems
High-tech fleets will also enjoy improved safety features. Many companies have ventured into video telematics, building systems of in-cabin and road-facing vehicle cameras. Among their many potential uses, cameras can improve driver coaching and provide evidence after collisions (or theft.)
Here are some Geotab solutions for camera systems: Lytx (video solutions and fleet telematics on a single platform); GOCAM solution and SmartWitness hardware (high-resolution, 360-view video and audio in and outside the vehicle); Netradyne's Driveri (video, AI and edge computing); and Trimble Video Intelligence (a 360-view video system designed for commercial transportation vehicles).
4. Maintenance and diagnostics tools
Today's technology is helping fleets minimize downtime. Fleet managers can now detect vehicle faults before they become a more dangerous (and costly) problem.
Some solutions, like Uptake's Asset IO, deliver predictive maintenance insights from existing vehicle data. Other tools pair advanced technology with human experts to achieve quick resolution. For example, IntelliConnect Remote Diagnostics from Eaton provides near real-time monitoring of vehicle fault codes.
Uptake uses machine learning to deliver predictive maintenance insights.
5. Asset-tracking tools
Owners of tech-equipped fleets will gain much more visibility over their operations. Managers can view the status of their vehicles and assets, often in real time, improving the chance of recovery if lost, damaged or stolen.
Flex's Solar Powered Trailer Tracker helps to monitor assets like trailers, containers and generators. Another option is Descartes' MacroPoint, a cloud-based solution and global freight visibility platform for shippers, third-party logistics companies and brokers.
Descartes' MacroPoint is a global freight visibility platform displaying real-time load location.
Thanks to the latest technology, we are inching closer to a future that is paperless, efficient and collision-free. Until then, keep up with our blog for the latest on telematics and fleet management. Advtracking.net
Source: Geotab