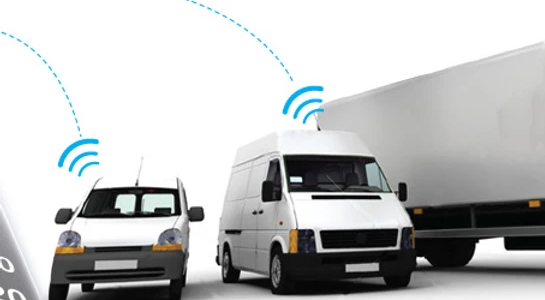 Within two and a half weeks of each other late last year, three big-name pharmaceutical companies—Pfizer (working with BioNTech), Moderna, and AstraZeneca—produced viable COVID-19 vaccine candidates. When it was reported that the Pfizer vaccine had to be kept at a frigid -70 °C, many experts predicted its difficult storage requirements would pose a distribution challenge that inevitably could lead to waste.
Another area of concern lies in the food industry where the United States has been established as the global leader in food waste. It's been reported that Americans discard nearly 40 million tons of food every year. That's 80 billion pounds of food which equates to 30-40 percent of the country's food supply. And while personal food waste is a leading contributor to these disturbing numbers, approximately 12 percent of all food waste occurs during distribution when room temperature changes often take place.
Both the pharmaceutical and food & beverage industries are part of what's known as cold chain logistics. Temperature-sensitive products like chemicals, meat, plants, drugs and vaccines require temperature-controlled environments from production to consumption and every step in between. Temperature consistency ensures the quality of these products as they move through their respective supply chains. Unfortunately, ensuring temperature consistency is often challenging.
The good news is that determining whether consistent temperatures have been effectively maintained is much easier today due to advancements in the cold chain itself as well evolving technology and tracking capabilities.
Temperature monitoring can save the pharmaceutical and food & beverage industries thousands of dollars per year in lost or spoiled goods. With a temperature monitoring system in place, distribution fleets can keep an accurate record of temperatures within trucks in order to prevent lost loads and maintain high quality customer service.
Wirelessly Monitor Up To Four Refrigerated Zones At A Time
Advantage Asset Tracking's Temperature Monitoring ELD add-in, Advantage TempTrac, has been specifically engineered to help meet today's demanding temperature-sensitive delivery requirements by allowing drivers to customize temperature ranges based on the type of load they are hauling. Whether it be fresh produce, frozen goods, or high-value assets such as pharmaceuticals, Advantage TempTrac ensures accurate, reliable and safe deliveries by displaying current and historical temperatures in the Geotab Drive ELD app with visual and audible alerts if the temperature goes outside of the temperature range for the type of load their hauling.
Compliance Made Easy
Our solution can facilitate Food Safety Modernization Act (FSMA) compliance as it monitors up to four zones simultaneously, and can be operated either as a stand-alone solution or seamlessly integrated through Geotab's GO Device. From there, integration into the MyGeotab fleet tracking system allows fleet managers to monitor vehicle location and cargo temperature from one convenient platform.
How It Works
Advantage TempTrac uses four simple components to create one complete temperature monitoring solution. Once installed, monitoring temperature is as simple as it is effective. The diagram below indicates a typical setup on a reefer truck.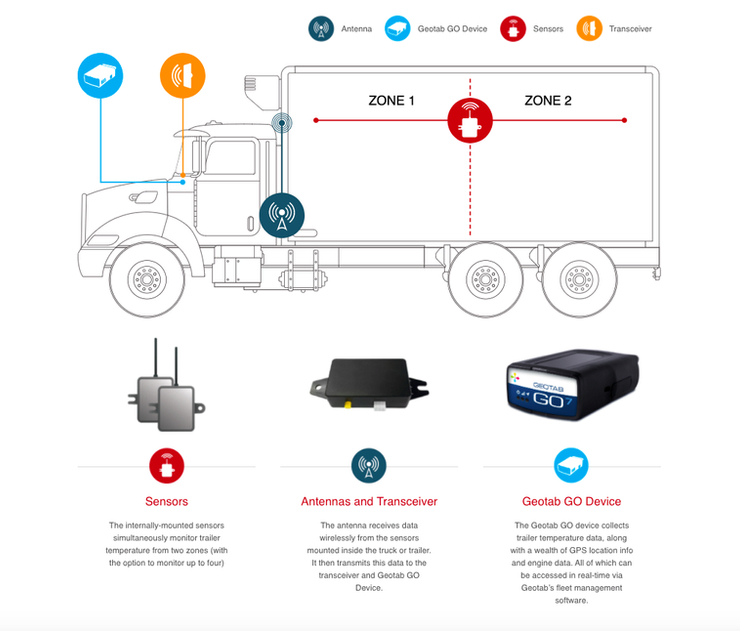 Features:
Cold chain compliant (US FSMA, EU EN12830)

Real-time monitoring of temperature inside the trailer, every 4 seconds

Immediate SMS or email alerts for over and under temperature changes

Track temperatures through the life of a shipment and trend temperatures over time

Wirelessly monitor up to 4 zones in real time (additional sensors sold separately)
Benefits:
Real-time monitoring removes the need for manual temperature inspection

Prevent spoilage of temperature sensitive loads

Reduce liability and number of rejected goods due to spoilage

Improved visibility on high value shipments through fleet tracking
To learn more about how Advantage Asset Tracking's temperature monitoring system can help your fleet, reach out for a demo today.